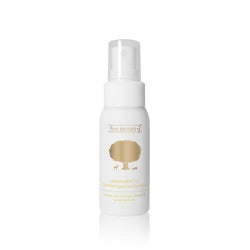 Lemon Myrtle Organic Hand Sanitizer
Organic defense for you and your family. Sanitize with 70% Organic Ethanol & Lemon Myrtle Oil.
Key Benefits:
Lemon Myrtle Organic Hand Sanitizer effectively kills germs with 70% organic ethanol made from sugar cane, with organic lemon myrtle oil that is antimicrobial properties and exudes a refreshing aroma, while additional aloe vera and vegetable glycerin soothe the hands, to leave your hands cleansed and soft.
- Made with 100% Certified Organic Ingredients
- 70% Organic Alcohol (Ethanol derived from sugar cane)
- Certified by ACO (Australian Certified Organic)
- Moisturizes with Aloe Vera and Vegetable Glycerin
See more ingredients

70%Organic Ethanol* (derived from Sugar Cane), (Aloe Vera) Leaf Juice*, Vegetable Glycerine*, Lemon Myrtle Oil*

*Organic Ingredients
Spray directly on hands, rub hands together until thoroughly dry.